ECGMAC Showcases ECG at the CMEF Autumn 2019
be from
The CMEF Autumn 2019 was held in Qingdao Cosmopolitan Exposition, from October 19 to 22, 2019, with the theme of "intelligent reconstruction of the future".
The exhibition area of The CMEF Autumn 2019 is 140,000 square meters, More than 3,000 brands from more than 20 countries participated in the exhibition. In addition, there are nearly 10 countries including Germany, the United States, the republic of Korea, Japan, Singapore and more than 30 provincial and municipal delegations. The CMEF Autumn 2019 showcases tens of thousands of innovative technology products in various fields including Artificial Intelligence (AI), Big Data, Telemedicine, Intelligent Rehabilitation and Intelligent Manufacturing etc.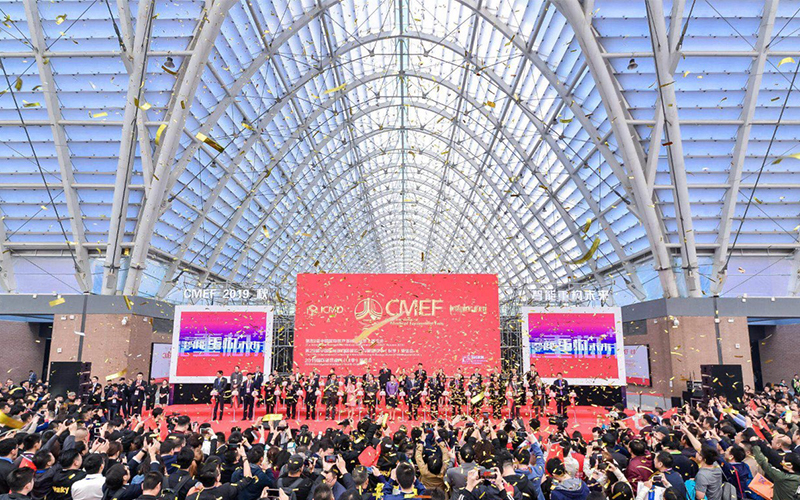 ECGMAC has been focus on innovation in high-end ECG machine for nearly ten years, on The CMEF Autumn 2019, ECGMAC presents Multi-Channel ECG, PC-ECG, Bluetooth ECG and Holter.
Multi-Channel ECG
EM-301 Three-channel ECG, EM-601 Six-channel ECG and EM-1201 Twelve-channel ECG all appear in The CMEF Autumn 2019.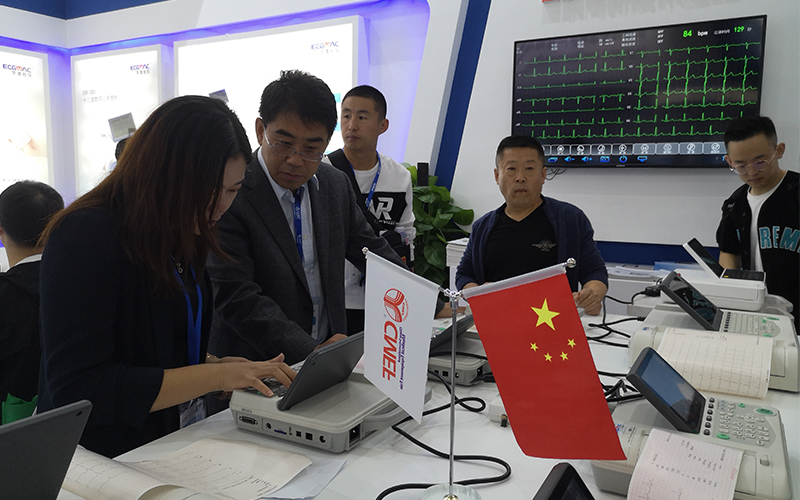 The EM-1201 features including 10 inch large foldable LCD display, Built-in lithium battery, large storage capacity etc, Data access with HIS/ PASS/ EMR system based on FTP/ DICOM/ HL7* standard protocol. It's the first choice of Twelve-channel ECG in Cardiac Function Division, Chest Pain Center, Self-Service Health Room and other clinical departments.
PC-ECG and Bluetooth ECG
The circular display cabinet displays PE-1201 PC-ECG and PE-1202 Bluetooth ECG. They are both lightweight and ultra-compact design.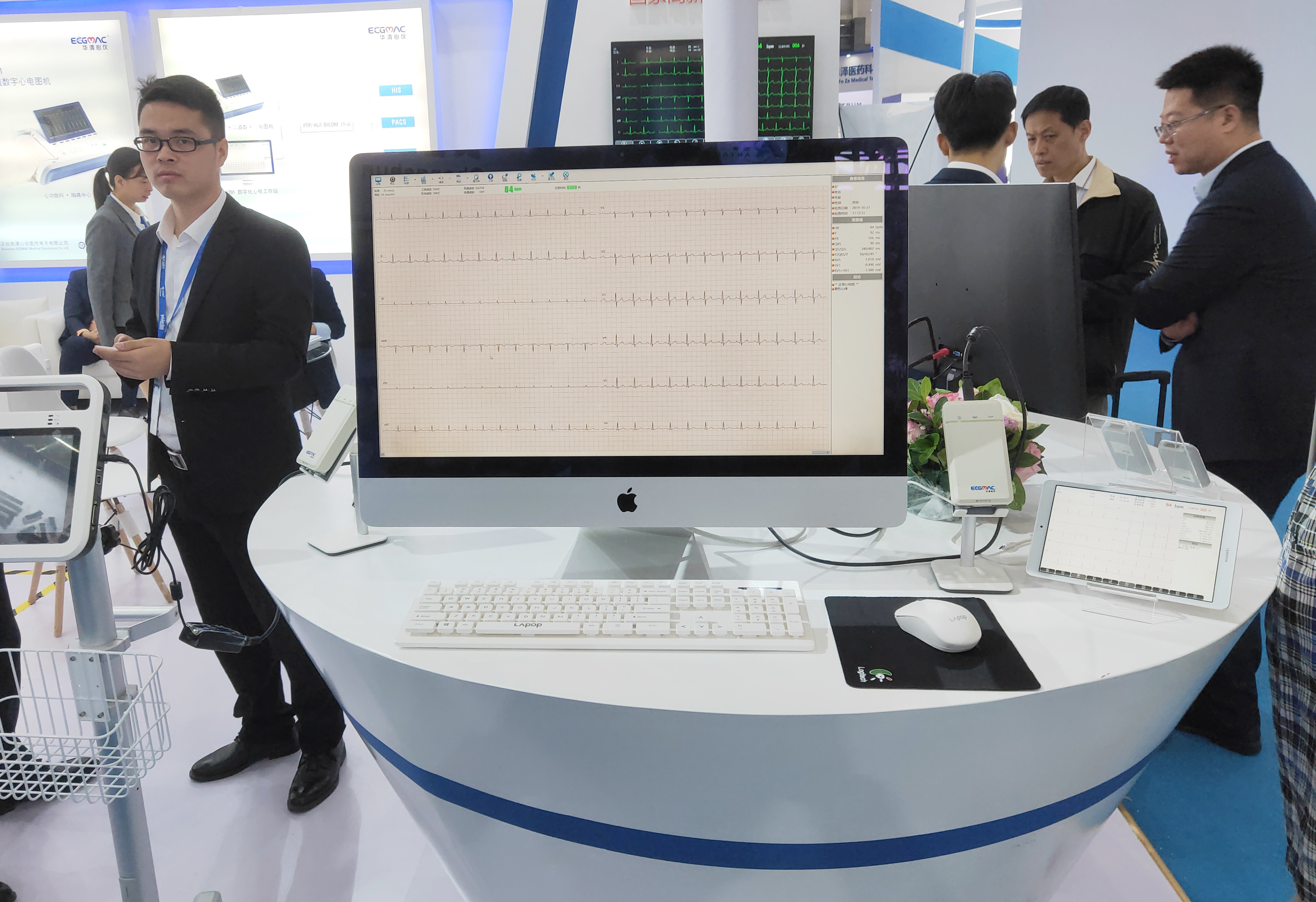 The PE-1202 Bluetooth ECG supports wireless and wired ECG acquisition, and supports Windows and android systems, it's the first choice for Bed Check, Telemedicine ECG Monitoring and Health Management etc. The PE-1201 PC-ECG supports wired ECG acquisition and Windows systems.
Holter
The holter of ECGMAC is portable and light, easy to wear ( H3B/H12B weight is only 48g, H3B/ H12B-plus weight is 78g) , which is convenient for the client to wear around 24 hours. Event button to record abnormal event time for patient and provides important basis for doctors' diagnosis. In addition, they also have powerful software functions to meet the clinical needs of a variety of ecg diagnosis.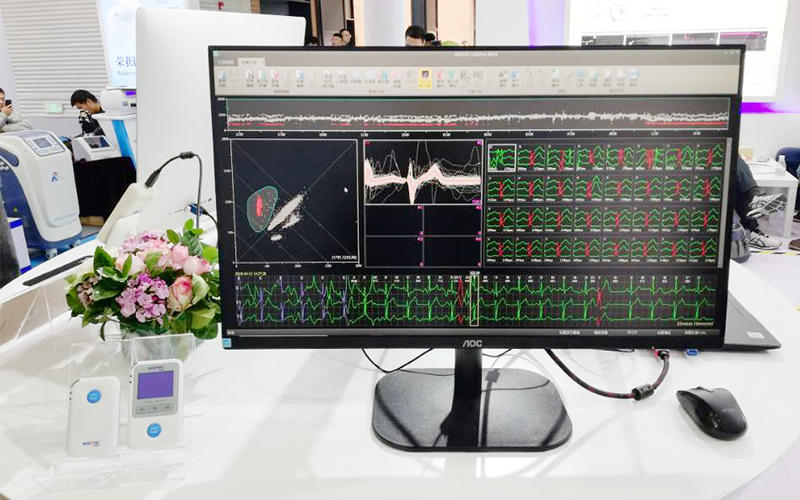 As a National High-tech Enterprise, ECGMAC has been focusing on the research and development, production and sales of ecg products. Currently, it has 40 patents (including invention patents, utility model patents and design patents) and software copyrights. With our high-quality and innovative medical devices, ECGMAC recorded a steadily increasing demand in China, Japan, Europe, and many other countries in the world.